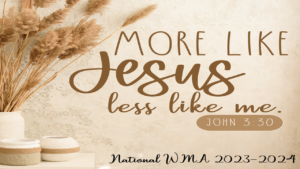 More Like Jesus, Less Like Me
John 3:30 "He must increase, but I must decrease."
Good morning ladies! What a beautiful group of ladies we have today! I imagine you all looked in the mirror this morning before coming to CBC. What did you see? If you are female, you probably saw things you wish were not there! Like wrinkles or lines, or blemishes, or gray hair or hair that is too curly or too straight, or too long or too short!
We do that don't we? We see the imperfections when we look into a mirror. What if we could look into our mirror and see more of Jesus and less of ourselves?
John the Baptist said of Jesus in John 3:30 "He must increase and I must decrease." So John was saying there needs to be more of Jesus in me and less of himself.
Do you see in your mirror someone who sometimes says things that you later have to apologize for? Or sometimes has wrong thoughts about another person?
Think about this:
Jesus never looked with lust; He never uttered a hasty, unkind, untrue, or frivolous word; and He never entertained an impure thought. He was never accused by conscience, never inflamed by wrongful passion, never out of step with the will of God. His time was never wasted, His talents never debased for selfish ends, His influence never bad, His judgment never wrong. He never had to apologize for anything He did or retract a single word He said. He was never too late or too soon; never upset; never shallow or afraid. He lived on earth approximately twelve thousand days and every one of them was a marvel of holiness. He was "holy, harmless, undefiled, separate from sinners" according to Hebrews 7:26.
So ladies, I exhort you this year to strive to be holy ladies, ladies who are more like Jesus.
How do we do that? First of all, I believe we need to allow the Holy Spirit that resides in us as God's daughters full access to every part of our lives. We need to learn to "abide" with Him at all times.
What is the correct meaning of abide?
1 : to remain stable or fixed

2 : to continue in a place

3. t

o conform

to abide by the rules.
Ladies, I urge you this year to strive to be more like Jesus through Bible Study, prayer, and service to Him and others around us.
*******************************
Splash: Let Love Overflow!
1 Thessalonians 3:12, "And may the Lord make you increase and abound in love to one another and to all, just as we do to you."
Love in the Splash Zone
When our boys were younger, we went to Sea World a couple of times. There were so many fun things to do and see, but the most amazing to me were the shows. To think that people could train these animals to do tricks.
I remember a couple of shows had splash zone areas. These were areas, designated by painted lines and usually closer to the front, where the audience was sure to get wet. Well, really not just wet, some people got soaked.
I also remember that some people walked very quickly towards these areas, while others sat as far away from them as possible. Each audience member wanted to see the awesome show but not all of them wanted to "participate" in the water activities!
You will see this as you splash God's love around. Some will welcome the refreshing shower of love. Others will try to stay away from it. They may say thank you or give you a hug but they just don't get the joy of Christ's love. They do not want to be in the splash zone.
Just like the animals at Sea World, don't let that make you stop splashing. There will always be those that are hesitant to join in the splashing. But I have also noticed that sometimes those that don't want to join in the splashing in the beginning will eventually warm up to it. They just want to see what it is all about before getting soaked.
God loves everyone and he wants all of us to join him in his Heavenly Kingdom. So, splash away: sing his praises, share his love, testify to his goodness. I pray that those around you will run to the splash zone and soak in the showers of his love.
John 13:35 By this shall all men know that ye are my disciples,
if ye have love one to another.
Cindy Allen, 2nd Vice President
(8/2021)