From President Jodi, 1/12/2021:
The National BMAA meeting has been postponed to August 2-4. The plan is to meet at Farley Street Baptist Church in Waxahachie, Texas. President, Bro. Jeff Swart will re-evaluate the COVID situation in June to see if it is safe to meet together in August. If not, it will be a virtual meeting.
Plans and schedule for the National WMA meeting and Women's conference will be posted as they are made on the Facebook page and the website at NationalWMA.org.
2021 National WMA Women's Conference
Sabrina Clayton, Keynote Speaker
Valerie Fish, Special Music
Share the Vision thru Gospel Music – Judy Biggers
Share the Vision thru the Written Word – Jackie Ricks
Share the Vision thru Women's Ministries – Pat Quesenbury
Share the Vision thru Community Outreach – Kim Mobly & Penny Jacobs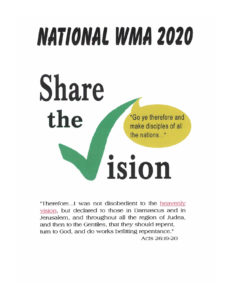 10/2020
************************
This has been a year like no other. I didn't anticipate the changes in the world that we are experiencing right now, did you? However, should we be surprised? The disciples didn't understand what Jesus had told them until it had come to pass. The signs of the times are all around us, we better be prepared for His return is coming soon. We'd better be about our Father's business because the day of the Lord is drawing near. "Therefore keep watch, because you do not know on what day your Lord will come." Matthew 24:42. We must remember we are God's people and we are responsible for carrying the message of HOPE to the lost! Let's take that serious as we serve Him in the National WMA!
We have followed along with the actions of the BMAA and kept the same officers for the coming year. We plan to keep the same theme for the coming year which is so relevant with the world's current situation, "Share the Vision." We need to be sharing the love of God and His truth more than ever with those around us. Our meeting place for 2021 will be the same in Waxahachie. The Recommendation Committee has voted to keep "Missionary Care" as our project for the coming year.
Ladies, just think what it must be like to be in a foreign county, far away from family and friends and possibly good medical care with this corona virus situation going on in the world. We need to support "Missionary Care" with great zeal! Please help keep this very worthy cause in our conversation with the ladies in our church groups. Make it real and personal by following the ministries of different missionaries and the struggles and the victories they experience in their ministries. The more they know, the more they will be willing to give. A big "Thank You" to Bro. Jerry and Sis. Sue Kidd for all the visits they made to different states and meetings to help us promote this project and for all their hard work and the love they give in caring for our BMA missionaries all over the world. Remember Bro. Jerry and Sis. Sue in your prayers as they have recently experienced some difficulties and trials in their lives.
We did have one cause that was going to be nominated at our meeting. It is the Darlene Carey Institute in the Philippines. We are not going to be open for nominations for next year and the Darlene Carey Institute will be our project for 2021-2022.
This last weekend I packed away all my stuff I had ready for our meetings April 27 and 28th (how was it all going to fit in my car?). We have to look ahead and keep plugging on for the Lord. Stay in His word and live it out before others. Remember His hope and share it with others for we are closer everyday to His return. "For I know the plans I have for you," declares the Lord, "plans to prosper you and not to harm you, plans to give you hope and a future." Jeremiah 29:11
If you have questions or a need in your WMA or Women's Ministry that we can help you with, please let me know. Keep informed by checking the website or Facebook page regularly. God Bless you all!
*******************************
I hope everyone is surviving well. I also pray that everyone is healthy. Let's pray for one another as we look to the Lord to help us weather this storm! Let's pray that God will help the doctors find a cure and a prevention for the Coronavirus.
I just want to remind you that we just have until April 27th to get our offerings in for our National Project, "Missionary Care." Let's show our missionaries that we care. Let's pray for their health and safety as they serve in America and on foreign ground. Please send all offerings to our Treasurer, Pat Duncan, at PO Box 30, Hardy, AR 72542.
Please pray for the Recommendation Committee as they are voting for the next National Project for 2020 – 2021 which will be announced at a later time. Until then, be safe and well.
God bless!
Jodi Rhea,
National WMA
President
**********************************